LIVING FOSSILS
HOATZIN
ALIVE SINCE: 10 MYA ~ MIOCENE EPOCH
The hoatzin is a colorful bird species that is well established in the fossil record. In particular, fossil hoatzin specimens have been found as early as the Miocene epoch, 10 million years ago, and possibly as early as the Eocene era, 48 million years ago.
Particularly noteworthy is the presence of claws on the first finger and thumb of hoatzin chicks. This is likely an evolutionary atavism, but has caused some to compare the hoatzin to archaeopteryx, an extinct bird that may be the ancestor of all modern birds. It is currently found living in much of South America.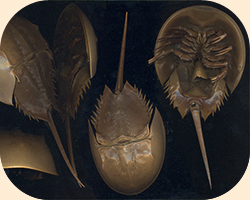 HORSESHOE CRAB
ALIVE SINCE: 450 MYA ~ ORDOVICIAN PERIOD
Horseshoe crabs are familiar to most people today, yet they've remained virtually unchaged for the past 450 million years, swimming the oceans as far back as the Ordovician period, long before the time of the dinosaurs.
In the same subphylum as modern day scorpions and spiders, horseshoe crabs have relied on a simple body morphology to keep them shielded from the elements. The horseshoe crab's blue blood is extremely important to human medicine, used in detecting bacterial toxins. Don't worry - the bleeding process doesn't harm the crabs and most survive to be released.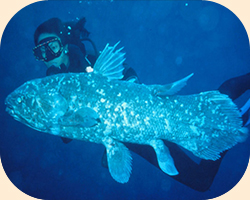 COELACANTH
ALIVE SINCE: 400 MYA ~ DEVONIAN PERIOD
Up until very recently, the coelacanth was thought to be extinct. Its populations are small and they are found in only a small number of areas, usually off the west coast of Madagascar, Kenya, and sometimes South Africa. Coelacanths are usually found in undersea caves at depths of about 500 to 800 feet, though they have been spotted nearer the surface.
These lobe-finned fish likely evolved from amphibious species that were able to walk on land. They generally filter feed, slowly drifting through the water until they find prey, such as squid and octopus. They are capable of moving quickly if needed.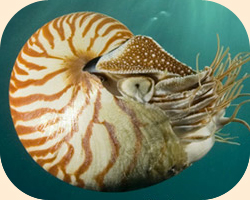 NAUTILUS
ALIVE SINCE: 500 MYA ~ LATE CAMBRIAN
The Nautilus family bears a familiar spiral shell that we often see in shell shops and ocean-inspired designs. They are in the same class as octopus and squid, but have many more tentacles, about 90. The tentacles have such a strong hold that if the attached object is pulled away, some tentacles may tear from the nautilus body.
Nautiluses pump water in and out of their body to maintain buoyancy and to swim. This method of locomotion is efficient enough that nautilusus only have to eat about once a month, at night, during which they ascend from their usual depths of over 1,000 feet to 300 feet to find crustaceans, small fish, and shrimp. They can live up to 20 years and grow to about 10 inches.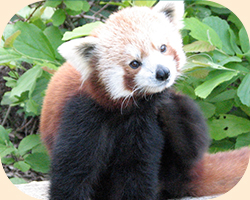 RED PANDA
ALIVE SINCE: 7 MYA ~ TERTIARY PERIOD
Red Pandas are only distantly related to giant pandas, which are also considered a living fossil. They are not much larger than house cats and generally live among Himalayan forests. The species is considered vulnerable because there are fewer than 10,000 red pandas left in the world.
Red pandas behave similar to house cats, lazily sleeping their days away in treetops and cleaning themselves upon waking. They are playful and mischievous and are known to catch insects, fish, and birds, though their main diet consists of bamboo. A fossilized red panda tooth was found in Tennessee, United States, dating back to 4.5 MYA!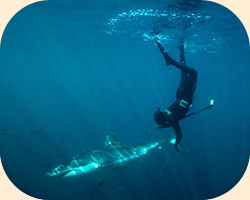 Mike Rutzen swims freely with great white sharks.


SHARK
ALIVE SINCE: 420 MYA ~ SILURIAN PERIOD
Millions of years before T-Rex stalked the land, a much larger predator swam the seas. Today's sharks remain relatively unchanged when compared to their ancestors, although they've been somewhat miniaturized. Even the largest modern sharks like great whites are a mere one-third the size of its megalodon cousin, which grew to 50 or 60 feet long.
Sharks are currently threatened by overfishing and oceanic pollution. It is unfortunate that a creature that has survived millions of years and several mass extinctions, may meet its end at the hands of a specially evolved primate. Like nearly all organisms on planet Earth, we pose a much greater threat to them than they do to us. Despite their menacing appearance and pop culture stigma, your chances of being killed by a dog are about 10 to 30 times greater than a shark. If you're still worried, you might check out the Florida Museum of Natural History Ichthyology page, which compares shark attack statistics to other daily risks, which, among other things, includes bicycle accidents, lightning strikes, and collapsing sand holes, all of which are significantly more likely than death by shark.
The Awashima Marine Park in Shizuoka, south of Tokyo, was alerted by a fisherman at a nearby port on Sunday that he had spotted an odd-looking eel-like creature with a mouthful of needle-sharp teeth.
Marine park staff caught the 5 foot (1.6 meter) long creature, which they identified as a female frilled shark, sometimes referred to as a "living fossil" because it is a primitive species that has changed little since prehistoric times.
FRILLED SHARK
ALIVE SINCE: 80 MYA ~ LATE CRETACEOUS



MORE COMING SOON...