EVO-DEVO HIGHLIGHTS

Like an evolutionary proof of concept, scientists are reverse engineering chicken embryos to express ancient genes. These conserved genes, or atavisms, still exist in modern day birds. In essence, chickens and other birds possess the instructions for making a dinosaur.
Hans Larsson (McGill University), Matthew Harris (Max Planck Institute), and John Fallon (University of Wisconsin) are at the forefront of this research, using genetic engineering and other technologies to turn on and off genetic "switches" and induce expression of atavistic traits. We now have chicken embryos with teeth, longer vertebrae comparable to that of archaeopteryx, and the knowledge to turn feathers back into scales.
Paleontologists already know that some, perhaps many, dinosaurs had feathers. One archaeopteryx specimen produced the best-known fossil in history, with visible feathers imprinting the stone. Evolutionary biologists still aren't quite sure how flight evolved, but there are at least a few strong theories. By further exploring the evo-devo of modern birds, we not only move closer to a living dinosaur, but we learn a great deal about evolution as well.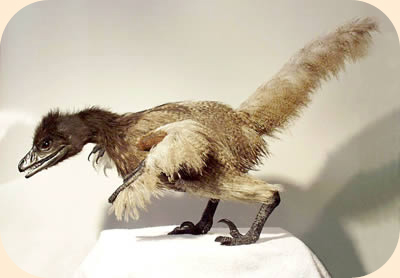 Bambiraptor model showing abundant feathers. Feathers likely began as a way for small flightless dinosaurs like sinosauropteryx to gain a hunting advantage - longer strides meant faster movement using less energy.